It should have been a very different school year for Tristyn Ranger and his close-knit family of 6. Tristyn, his twin sister Sierra, and their shared group of friends were looking forward to a fun grad year when Tristyn was diagnosed with Burkitt's leukemia. He would need at least 8 months of treatment in Vancouver, far from their hometown of West Kelowna.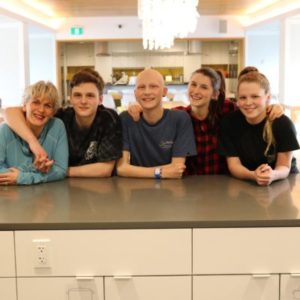 Tristyn and his mom Lisa travelled to Vancouver for treatment at BC Children's Hospital, and moved into Ronald McDonald House BC and Yukon. Tristyn's older sister Athena, a student at UBC Okanagan, was able to transfer to the Vancouver campus to join them.
For Tristyn, Lisa and Athena, Ronald McDonald House became a home away from home where programs like Family Meals, music lessons and trips out to Vancouver attractions give them a much-needed break.
But something was still missing: Tristyn's dad and two other siblings who were left behind in West Kelowna.  They planned to visit on weekends, but an unusually cold and snowy winter often made the drive to Vancouver too dangerous.
By Spring Break, the Ranger siblings had not seen each other for two months – and that's when WestJet's Gift of Flight Program came to the rescue. Each year, WestJet donates flights to Ronald McDonald Houses across Canada in order to reunite families separated by their child's illness. Staff at the House encouraged the family to apply, and they were overjoyed when they got the news that the family would be reunited over Spring Break.
For the Rangers, the next best thing to being at home was having all the siblings together at Ronald McDonald House. "Tristyn has been too unwell to leave the hospital and so just being with his siblings again has lifted his spirits immensely before having to start his next round of chemo," said mom Lisa. "His family gave him the strength he needs and support for this journey."
As Tristyn continues with treatment, the family looks forward to their next reunion and remains grateful for their home away from home just steps away from the hospital.
Donate today to help keep a family like the Rangers close.