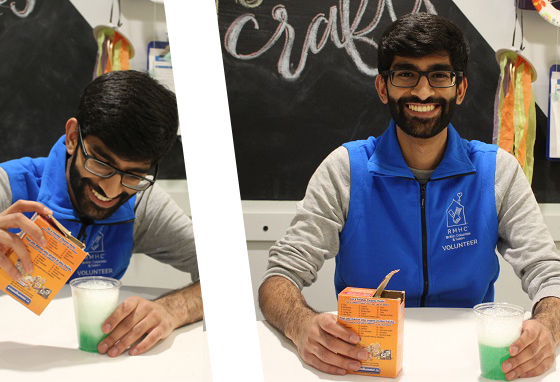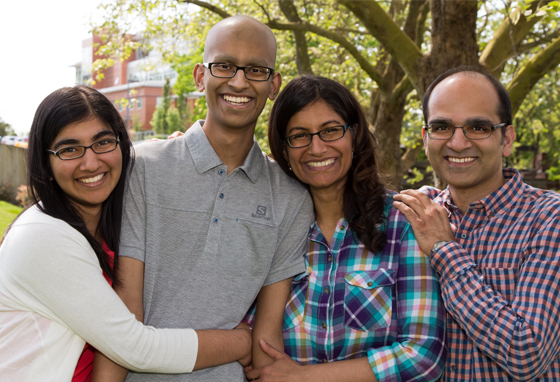 Like many families, the Sharma family learned about Ronald McDonald House the hard way. Reeling from a cancer diagnosis, they came to Vancouver with just a couple of changes of clothes, expecting to return home soon to Prince Rupert. That's when doctors told them they were going to be in Vancouver for a very long time.
Spending $300 per night on a hotel was impossible, and they were trying hard to think of people they could stay with when a nurse at the hospital suggested they call RMH BC. A week later, they checked in and Forest House became their home base for the next 9 months.
Nivan and his parents were amazed at how the House was designed for comfort – down to little details like hot chocolate mix. But one thing they didn't expect was the connections they would make with other families.
Nivan describes his family as private, typically keeping to themselves. "We barely told anyone I had cancer," he remembers. They weren't in Vancouver to make friends – but soon his parents began to meet other parents facing the same situation. Nivan himself missed school, both his classes and his friends. Being at the hospital every day was getting depressing and he was spending all his time playing games on his phone. "My mom told me, 'give it a shot,'" he remembers, so he decided to try talking to other kids his age who were battling cancer.
One of the first people he talked to was Rowan, a teen girl who was fighting cancer. They instantly had everything in common and the same type of cancer. She and his other RMH friends understood exactly what he was going through . "Going through cancer treatment, you can't have a normal conversation about it with someone if they haven't been through the same thing, and experienced the same fear," says Nivan.
He looks back fondly on days spent in the teen room playing video games, or getting together to order pizza. RMH BC was also the perfect place for his friends from Prince Rupert to come visit, play games and just spend a few hours doing normal things.
After his intensive treatment came to an end, Nivan and his family always looked forward to checkups because it meant they could come back to RMH BC. But when Nivan moved to Vancouver to start his first year at UBC, he suddenly realized – he no longer qualified to stay at the House and he missed his second home.
In summer 2019, he took the plunge and applied to volunteer. He had previous experience leading summer camps and tutoring kids in science, so the Let's Talk Science Program seemed like the perfect fit. Every Tuesday from 7 – 8 PM, Nivan and his volunteer partner come up with a hands-on science activity to involve the kids and have fun.
Walking into RMH BC for the first time as a volunteer felt like coming home, he remembers with a smile. "I was amazed that people recognized me, even though 5 years ago, I was bald and in a wheelchair. That was big."
And for him, volunteering is the perfect way to pay it forward. "When I stayed here, there were so many people who came together to make things happen for us," he says. "I want to be that for another family, to fill that role."
Help keep a family like Nivan's close!