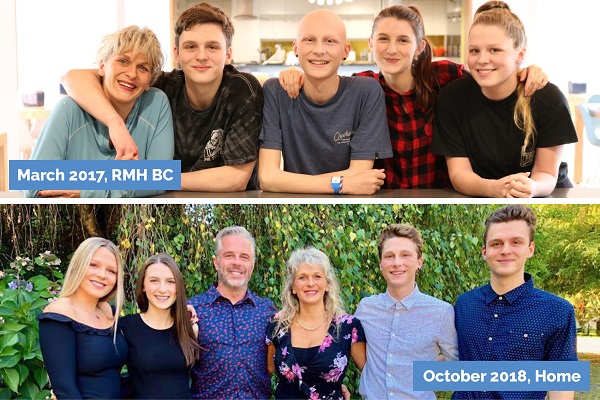 We first introduced you to Tristyn Ranger and his family in May 2017, while Tristyn was spending his grad year of high school undergoing cancer treatment far away from home. For Tristyn, RMH BC helped to bring his family together so they could support him when it mattered most.
Tristyn Ranger remembers Ronald McDonald House as a place where he could re-connect with family and friends. "My fondest memory of RMH was around December of 2016 when all my family and some of my friends came to visit me before I started by chemotherapy treatments," he says. "We spent the whole day together at RMH and went shopping for delicious food and cooked a huge meal. I remember It being an amazing day and being so full I couldn't even stand up!"
The 203 nights that Tristyn and his mom Lisa spent in Vancouver were a difficult time for the Rangers. This close-knit family of six loves to do everything together, and they found themselves separated due to school commitments and 2017's heavy snowfalls. They squeezed in visits when they could, but it was a huge relief when Tristyn finished treatment and they were reunited in August of 2017. "After we returned home after our long stay the most important thing to us was spending time together as a family," remembers Tristyn. "We spent the remainder of the summer relaxing and recovering."
In the fall, Tristyn and his twin sister Sierra began their first year of university at UBC Okanagan. Tristyn's older sister Athena, who had spent a semester at UBC in Vancouver to be closer to him, was able to return to the Okanagan as well.
Now, all four Ranger siblings are focusing on school. Tristyn's little brother Ayden is at the top of his Grade 11 class and loves math and science. Sierra is working toward a degree in management, and Athena is majoring in biochemistry with plans for a career in research. Tristyn is turning his experiences into a career. After he gets his Bachelor of Science, he plans to go to medical school and become a pediatric oncologist or neurologist.
When not studying, the Rangers work at Cactus Club (and enjoy getting dinner and drinks with their staff discounts). Their favourite things to do as a family are taking trips to Mexico or just spending time at home together.
Tristyn returns to RmH BC every 3 months for blood work and check-ups, and enjoys seeing the people he met during his long-term stay. For Lisa, families at the House continue to be important connections. "My mom still actively keeps in touch with other families through Facebook and is continually encouraging them in their journeys!"
Thanks to you, kids like Tristyn and their families have a home away from home. Donate today and keep a family like the Rangers close.