It started as a chance to gain work experience for grad school applications, but volunteering at Ronald McDonald House BC and Yukon has become a passion for Kaavya Dabla. "This is the House of hope," she says. "It's like my home."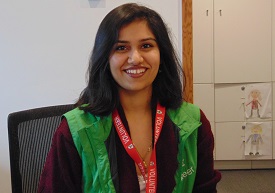 As a biochemistry student fast approaching graduation, Kaavya's life is only getting busier and busier, but she knows that the one commitment she can always make time for is her shift at Ronald McDonald House.
Two and a half years ago, she looked up volunteer opportunities online and was instantly drawn to a posting for the Ronald McDonald Family Room at Surrey Memorial Hospital. The opportunity to help families with children in the hospital was a perfect fit for her, and working at the Family Room became Kaavya's first ever volunteer job.
In her third year of university, Kaavya transferred to UBC and happily was able to stay involved with RMH BC by volunteering at the House. Receiving the green vest that marks two years of volunteering was a proud moment for her and she never wants to stop.
Her inspiration for giving her time to RMH BC? Being part of a support system for families during times of medical crisis. "I can't treat them, but I can just be there for them," she says. Every Friday Kaavya is a friendly face at our front desk, welcoming families, offering assistance, taking phone calls, and pitching in wherever needed to keep the House running smoothly.
"It's taught me about myself," Kaavya says about the two and a half years she has spent volunteering at Ronald McDonald House. She knows that greeting a family, providing a sympathetic ear or sharing happy news can make a big difference, and she wants to keep helping others throughout her life. Next year, she is looking to study nursing, pharmacy or physiotherapy, and her ultimate goal is to go to medical school.
Volunteers like Kaavya make it possible to provide a  home away from home for almost 2,000 families at Ronald McDonald House, and over 700 at the Ronald McDonald Family Room. Learn more about volunteering opportunities at RMH BC.