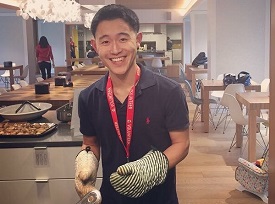 Cooking a Family Meal at Ronald McDonald House BC and Yukon was a life-changing experience for Alex Wong. While cooking dinner for RMH families with his colleagues, he struck up a conversation with a teen cancer patient named Brooke Malakoff. He was immediately inspired by her positive outlook and her passion for giving back to the community even while fighting a huge battle herself.
Alex credits this first 10-minute conversation for changing his outlook on life, and he has been volunteering and raising funds to support RMH BC ever since. In 2016, he raised enough to adopt a room at the House in honour of Brooke, who had passed away the year before. This year he has even bigger plans to support the thousands of families each year who depend on Ronald McDonald House. "Brooke referred to her own bucket list as a 'living list,' and driving across Canada to see the 15 Houses and 16 Family Rooms has been on the top of my living list," said Alex.
During his trip, he hopes to raise at least $20,000 to support all Ronald McDonald House programs across Canada.
On August 18, Alex and his younger brother Mark will hit the road in Victoria, BC, and travel for 10,000 KM until they reach St. John's, NL. This trip, filled with visits to RMH locations and famous Canadian landmarks, is scheduled to last 23 jam-packed days. To celebrate reaching St. John's, the brothers will scatter some sand from Victoria to commemorate their coast to coast journey.
With all the sights and experiences ahead of him, Alex is still most excited to visit Canada's Ronald McDonald Houses. "I look most forward to seeing all the wonderful people who make the Houses as special as they are," said Alex. "From the staff to the volunteers, donors, and to the families as well, I want to connect with all the positive people who help create a supporting environment for the kids."
His road trip snack of choice? Coffee
His road trip playlist? Everything! Alternative, country, folk, hip-hop, pop, R&B and rock