This month, we profile Duncan Robinson of Wimbleton Financial Services, Presenting Sponsor of our 30th Annual Vancouver Golf Tournament and generous longtime supporter. Duncan has seen the openings of both our 73-bedroom House and our original House on Angus Drive, and recently shared the reasons behind his longtime support.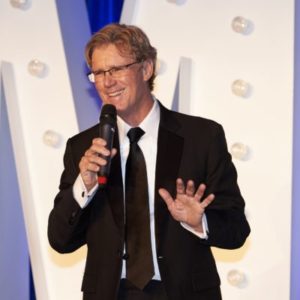 Financial Security Advisor Duncan Robinson believes in making every day matter and turning adversity into the opportunity to give back. This drive to make a difference is deeply personal. In 1997, he lost his son Michael to cancer, and since then, he has been supporting charities that care for sick children and for parents who are fighting similar battles to his.
"You can't imagine it happening to you," says Duncan, but now that it has, he says the choice to give is clear. He was drawn to Ronald McDonald House BC and Yukon because, to him, it felt like home. "It's hard to make such a big place feel like home, but it does," he says. "It's a safe haven for kids, and when you walk in, people call you by name."
The perseverance, commitment, and courage he saw in people at the House inspired him to get more involved, and eight years ago, he introduced his company, Freedom 55 Financial, to the RMH BC family as a Gala sponsor. He continues to stay involved as a valued supporter and Presenting Sponsor of our Vancouver Golf Tournament.
Duncan has been a Financial Security Advisor with Wimbleton Financial Services and Freedom 55 Financial for over 18 years, and is passionate about helping his clients to plan for the future and leave a legacy that makes a difference. "Life is perfectly imperfect," has become his motto and he strives to help people to make the most of what they have.
In addition to his charitable giving and work in financial planning, Duncan counts among his accomplishments writing a bestselling book, completing 5 Ironman races and 25 marathons, and speaking at the Courage to Come Back awards.