"It was a normal day, and then we got the call that we were going to Vancouver that night," says dad Alfie Sampare about the day he learned his daughter Olivia had leukemia. Since that day in September 2016, Ronald McDonald House BC and Yukon has come to mean comfort, home, and security for 5-year-old Olivia and her dad.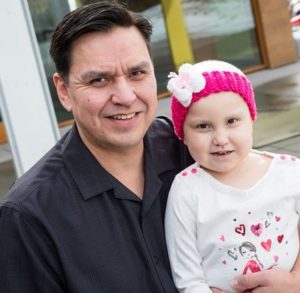 For both Alfie and Olivia, the hardest part is being away from the rest of their family, especially Olivia's 6-year-old brother and her mom. Staying at RMH BC has helped to keep them connected: free wifi in the House allows Olivia and Alfie to Facetime with family every day.
Staying at the House has also given them a community of support so that they are less isolated in Vancouver. Family meals help to reduce stress and the many activities in the House help to take Olivia's mind off of treatment. Currently, her favourite activities are arts and crafts, gardening, and music.
Alfie feels fortunate that Olivia started her treatment at the same time as several other little girls around her age, and these families have formed a strong bond, helping each other through the tough times and celebrating their successes. "You can always talk to someone when you need to," says Alfie.
While at first she was very shy, Olivia now runs around the House like it's her own. "The first couple of months we were here, she wouldn't leave my side. Now she's chasing me away!" says Alfie. "She's a social butterfly. She knows everybody."
After some complications and delays, there is a light at the end of the tunnel for Alfie and Olivia: in August or September, they hope to finish this intensive phase of Olivia's treatment and return home to Terrace. Alfie is looking forward to seeing their extended family, and the first thing Olivia plans to do at home is play with all the toys she left behind!