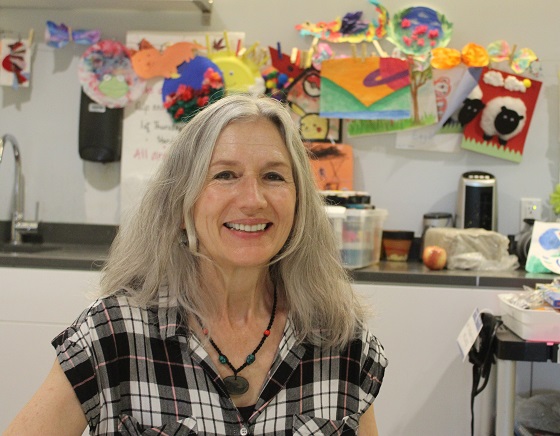 The art therapy program at RMH BC helps kids and families to express themselves through art in both individual and group sessions. We caught up with Kali Dukowski, RMH BC art therapist, to find out what she loves about art therapy and being at the House. Thank you to the Arnold and Anita Silber Family Foundation for making our art therapy program possible.
Kali, can you tell me a little more about art therapy and how it works for the families here?
If you have problems in your life, or if you're in pain or not feeling well, you spend all your time thinking about that – but art takes you to a more relaxed, playful space outside of your everyday life. You're working both with your imagination and with the senses, using your hands and problem solving.
Families here are feeling strong emotions such as anger and fear, and they can work through what's happening to them by creating characters and telling stories. I remember one group of kids who began to make clay cat figures that had been in accidents or were having chemo.
One little boy recently made a clay shark mask that he could wear, with big teeth to chomp people. Through art he was able to relieve some anger in a different way, with permission to express these feelings.
Another boy came to art therapy who was new to the House and scared – he was convinced the House was haunted. So, he began making dragons that would patrol the House at night to scare away any ghosts and protect the children of RMH. This scary nighttime fear turned into a chance for him to empower himself and also help the other children.
What is a typical day like as art therapist at RMH BC?
I start out with open space, and it varies every day which kids are here, and how many. Sometimes I have 14 kids in this little room, and sometimes there is only one.
The clay is a big draw! Clay is a very healing material – paint too! Kids who aren't able to play outside can make a mess, get dirty, and do kid stuff.
Tell me a bit about your career path – where did you start out and how did you get where you are today?
I graduated in 1992 and I kept wavering back and forth between art and psychology (I went to Emily Carr and SFU). Then I saw that I could put art and psychology together. I knew that art had healing properties.
Mostly I've worked with trauma. For 10 -12 years I worked with the Squamish and Tsleil-Waututh nations, on the downtown Eastside, and with grief and loss groups. I also teach a course online at Athabasca University. Coming here is all about hanging out with the kids and doing art! Mostly the kids here just come to have fun, but art itself is healing.
What would you say to aspiring art therapists out there?
Your heart needs to be there! Check it out carefully and see if it's for you. Unless you are very lucky, jobs don't come instantly, but if you are doing art all the time, if art is something that's always present in your life – go for it!
Lightning Round:
Favourite food? Peanut butter and banana sandwiches.
Best vacation ever? Travelling across the country and back in a van, being able to take our time. The van broke down constantly so we ended up in the weirdest places. When you break down, that's when the adventure begins!
Favourite pastime when not at work? I love to paint and make sculptures – giant sculptures, with chicken wire and paper maché.