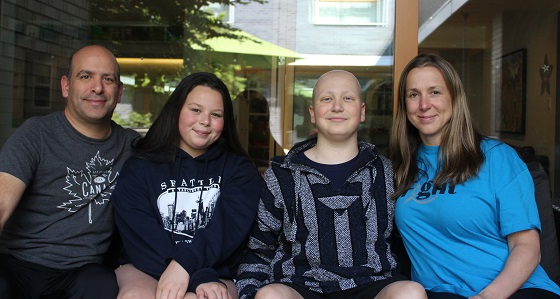 On April 1, 2018, "the worst April Fool's day ever," Isaac Mastroianni and his family travelled from Prince Rupert to Vancouver to begin long-term chemo treatment. Isaac had been diagnosed with two brain tumours earlier in the year – one which was removed right away and a second that required more complex treatment. Since that April day, Ronald McDonald House BC and Yukon has been home.
For Isaac, the House is a break from the hospital – a place where he can go outside and play basketball, enjoy dinners cooked by volunteers, and spend an afternoon playing video games with friends who are also in treatment.
RMH BC has also taken care of Isaac's whole family. Isaac's younger sister Jillian has been with him every step of the way, and at the House she also has kids to connect with who know what it's like when your sibling is sick. The whole family appreciates the many activities around the House that help provide a break from the hospital. A highlight for them was the RMH Summer Carnival, the perfect excuse to let go of their worries and simply enjoy a summer day together as a family.
"This place has everything," says Isaac's mom Gina, from the location to the community of other families, staff and volunteers. Dad Mark agrees: "Everybody is here for different issues. Some are here for cancer, some because their baby was born premature, some are here just for a couple of days for checkups. You can have daily conversations and learn about different walks of life, take comfort, or vent."
Throughout their stay the family has been inspired by the generosity they have seen from donors and volunteers. "We can't say thank you enough," says Mark. "You took away one of the major stresses – where are we going to stay – and took away a lot of the cost as well, so we can focus on being together and getting through each day."
The Mastroiannis have been paying this generosity forward, making sure to always tidy up around the House, be friendly to everybody and leave treats (baked in-House by Jillian) for the cleaning staff. On one of their rare trips home, Jillian held a Lemonade Stand fundraiser and raised $300 for the House!
Isaac has now finished chemo and a second surgery, and both tumours are gone. After a quick visit to Prince Rupert, he and his family are heading to Seattle for 6.5 weeks of radiation to complete his treatment.
Mastroianni Family Update
In January 2020, we caught up with the Mastroianni family while they were in town for a checkup. Find out how they're doing now!