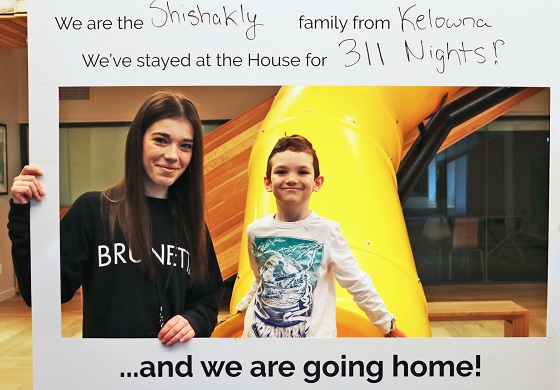 See Katie and Evan on Global BC!
In March 2018, 4-year-old Evan and his family were getting ready for their annual Spring camping trip when he came down with what seemed to be a typical stomach bug. Evan had always been a healthy kid, but when he suddenly developed a high fever, his mom Katie decided to take him to the hospital just in case. There, they discovered that Evan was in septic shock due to a rare blood infection.
On Sunday morning at 1 AM, Katie and Evan were evacuated by air to Vancouver. Evan had multiple organ failure and his fingers and nose had turned black. He was treated with antibiotics, donated plasma and creams, and doctors predicted that if he did survive, he would probably lose his limbs.
Thankfully, after a month in the hospital Evan began to recover and was able to keep the use of his limbs. The infection left him with a compromised immune system, he lost fingers on both hands and he would need months of rehabilitation and ongoing monitoring at Sunny Hill Health Centre for Children.
A month in the hospital was incredibly hard on a 4-year-old boy, so Evan's medical team agreed on a plan for Evan to spend his days at Sunny Hill and his nights at RMH BC, in a comfortable home-like environment. Katie credits the House and the other kids he met for helping Evan to heal. "Ever since he's been out of the hospital, he's been so positive," she says.
Katie will never forget the life-changing moment when Evan took his first unassisted steps since getting sick. One night, Evan was playing with other kids in the Mountain Kitchen at RMH BC and he wanted to keep up, so he got up from his wheelchair and took 3 or 4 steps by himself – and since then he hasn't stopped moving. "Evan has adapted to everything," says Katie with a smile. "He walks around like this is his home and all these people are guests in his house." Evan celebrated his 5th birthday at the House and loves going down the slide, running around the sport court, and playing with his friends every chance he gets.
For Katie, the House became a community of support when her life turned upside down and she found herself alone in a strange city. "Everything that we knew and thought was our safety net was gone," she remembers. During this overwhelming time, people she met at RMH BC became her community. "Now my little tribe is here," she says. "It's one big happy family," full of people to cry with and also celebrate with.
As Evan continues his road to recovery, he and his mom recently moved to a more permanent home in Vancouver. What does the future hold for this incredibly strong mother and son? Evan is looking forward to 3D-printed prosthetic fingers that will help him grasp objects (and get back to his favourite activities: dirt biking and quadding). "It's a second chance," says Katie.
Thanks to you, kids like Evan and their families can stay together. Donate today and keep a family like the Shishaklys close.