"All three of the kids learned to ride bikes here," says mom Nicole Robinson, looking back at the many stays her family has had at Ronald McDonald House BC and Yukon. "It's our home away from home."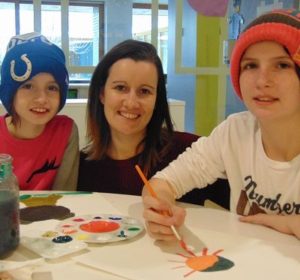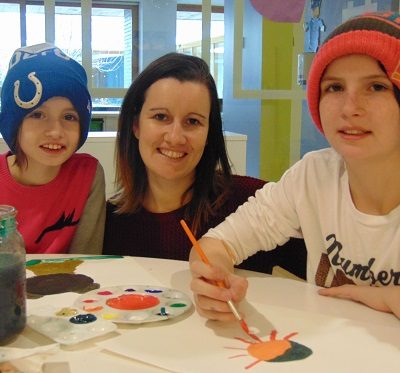 Two of Nicole's three daughters, 11-year-old Alysa and 9-year-old Kiana, were born with cystic fibrosis and require frequent treatments at BC Children's Hospital. Approximately every three months the Robinson family travels to Vancouver for either checkups with their medical team or longer admissions that last two to three weeks. Some years are easier and some are harder; in 2016, Alysa and Kiana spent a total of 70 days in the hospital.
Since 2014, Ronald McDonald House has been the family's home away from home, easing the financial and emotional burdens of being away from Kamloops. Nicole and her husband Matt need to take time off work to bring the girls to their hospital appointments, but staying at the House offers a large kitchen where they can store groceries, and also take part in volunteer-run Family Meals.
Nicole and Matt take turns bringing the girls to Vancouver, and being separated so often is hard on the family, especially on their youngest daughter, 7-year-old Audrina. Staying at Ronald McDonald House also helps to relieve this stress, by providing a place where the whole family can be together on the weekends or school holidays.
Most importantly, Ronald McDonald House is a place where Alysa and Kiana can take a break from the hospital and enjoy ordinary childhood moments even when they are away from home receiving treatment. During their longer treatments, they get passes to come back to the House, where they can take part in RMH BC programs, ride bikes, play basketball, or simply relax after a tiring day.
Kiana's favourite activities are reading, playing Minecraft, or doing anything artistic, and she has fond memories of a day in the spring that she was able to help House gardening volunteers plant sunflowers. Alysa loves to dance and bake, and enjoys taking part in the Cooking for Kids program at the House.
Along with the convenience of being close to the hospital, their parents love the normalcy that staying at the House brings. "You forget you're at the hospital," says Nicole. "You see kids running around, shouting and hollering, and it doesn't seem like a place where sick kids are. If you have to be away from home, being here is the next best thing."
You can donate a special moment to a child like Alysa or Kiana. Visit giftamoment.ca to give.