This month, we profile A Plus Cleaning and Janitorial, generous supporters who help keep our House clean and welcoming for our families. Their dedicated team of housekeepers is a friendly and cheerful presence in the House 7 days a week, and at the end of each month, A Plus donates back a portion of their fee to help us keep our operating costs low.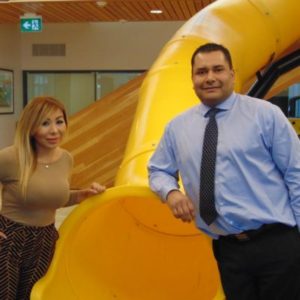 Eduardo Asomoza, President and Owner of A Plus Cleaning and Janitorial, sees his company as a family, with brothers, sisters, moms and dads all working together. For the past three years, Eduardo and his A Plus team have also been working tirelessly to make our House a home for BC and Yukon families.
As a parent himself, Eduardo was drawn to RMH BC and knew he wanted to help. The construction of our new 73-bedroom House brought many opportunities for the A Plus team to get involved. They helped us to welcome our first families by providing a full construction clean of our new House and have been helping us to serve families ever since. The company now has approximately 60 employees, and 16 of these employees work at Ronald McDonald House BC and Yukon.
The management team at A Plus also loves to stay involved at the House. For Human Resources Manager Joseline Alanis, the Family Meal program offers a special opportunity to give back. "It's so nice to help people when they need it most, and bring them that happy moment even when they are in a difficult situation," she says. Eduardo's favourite way to get involved is bringing the Easter Bunny and chocolate for the kids every year.
When asked what she would say to someone thinking about donating or volunteering, Joseline says simply "You should do it! It's such a nice feeling knowing that you can help somebody. The money you donate, you can see it being used every day when you look around the House."
A Plus Cleaning and Janitorial was founded in 2004, and provides complete cleaning services from carpet cleaning to construction cleans to pressure washing and snow removal.
To find out how your company can get involved with RMH BC, contact us.