Meet the Stephens Family
From Warfield, BC
When 6-year-old Genevieve and 4-year-old Clementine are asked what their favourite part is about staying at RMH BC, the sisters both agree: the big slide! Genevieve adds, "and my other favourite is pulling my sister's pigtail!" They both giggle.
Genevieve and Clementine have travelled from Warfield, BC, to visit their baby brother Thatcher, who is receiving treatment for Stage 4S neuroblastoma.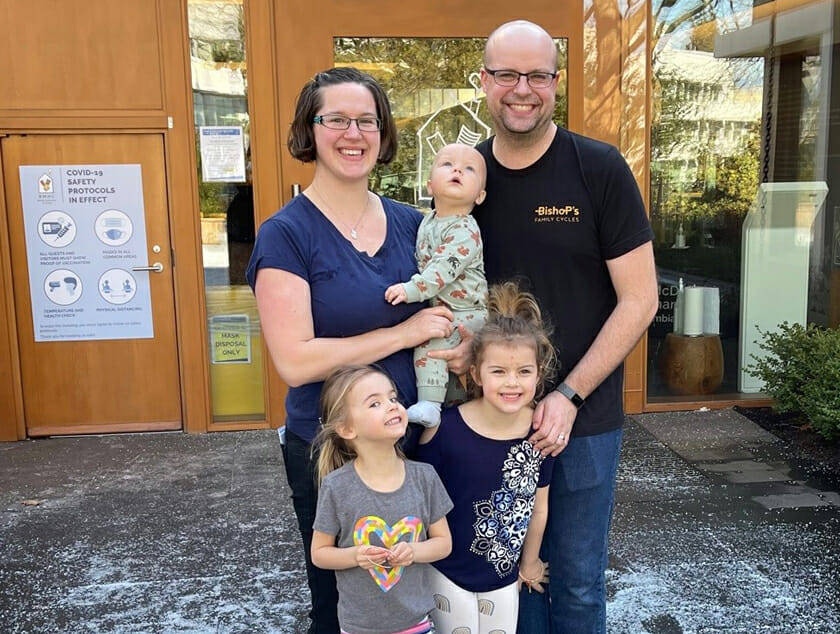 In September 2021, Thatcher's parents Mark and Keri took him to a pediatrician's appointment, where the doctor found an enlarged liver – and then a tumour on his kidneys. He was flown to Vancouver the next day, and doctors began working on a treatment plan.
Mark and Keri learned that Thatcher had a type of cancer that was considered 'special' – in babies his age, it often heals on its own, but since Thatcher had so many tumours, in so many challenging locations (including the kidney, liver, skin, muscles, face, and brain membrane), they opted to start chemotherapy.
That's also when they learned they wouldn't be going home for months – when a hospital social worker put them on a list to check in to RMH BC.
Since then, Keri and Thatcher have been in Vancouver full time, while Mark, Genevieve and Clementine travel back and forth whenever they can. They expect to be in Vancouver until early 2022, and even when they return home, they will need to come back to Vancouver often for scans and monitoring.
While their lives have been uprooted, the most helpful thing for the Stephens family has been the ability to be together. "Before this, the longest I had been away from my family was a week, and for Keri a day," remembers Mark. "Coming here, we didn't know when we would be able to be together as a family again." They checked in to Ronald McDonald House just in time for Clementine's birthday – a silver lining that they didn't expect.
They are amazed that so many generous donations and community members come together in so many ways to help families, from home-cooked meals to the music therapy program (where the girls love making hilarious noises with the drum machine).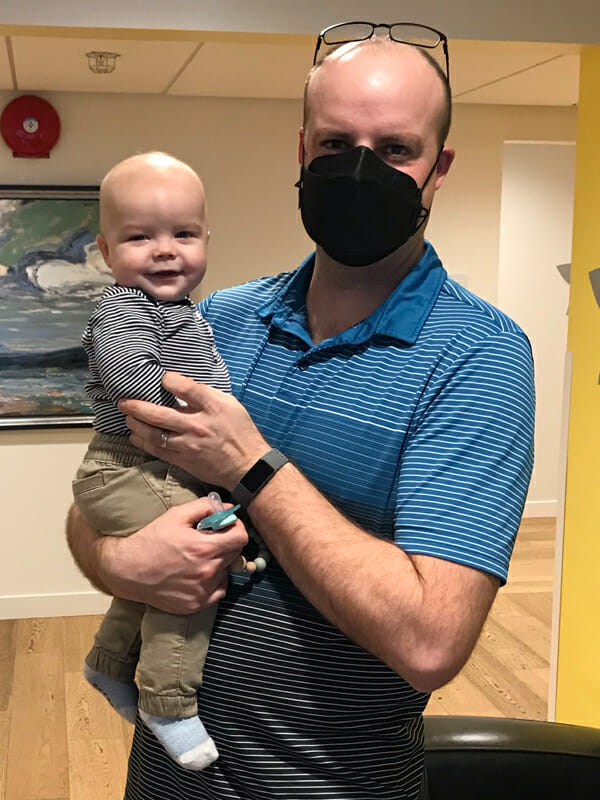 "
We come from a town of 1700 people.
The whole hospital at any given time has more people than our community."
When Keri is alone, caring for Thatcher, the House is the best place for her to be. Being walking distance from the hospital helps put her mind at ease – knowing that she is close by and doesn't need to navigate the city.
And when she is alone, she appreciates the common areas for the sense of community they provide, with volunteers, staff and other families. Small details make all the difference – from fresh muffins in the morning, to a staff member asking if there's anything she needs and making sure to order special food pouches for Thatcher. They were able to decorate a tree as part of Light the House, and the cleaning staff have a special relationship with Thatcher, as he is fascinated to see their carts going back and forth. "It's really nice to be taken care of," says Keri.
Mark and Keri both agree that you need to stay at the House to believe it, and they are not sure what they would have done without it: "I'm scared to think how we'd be as a family without this place," says Keri.
And, in the midst of the most stressful time of their lives, the family has been able to find small pockets of normal. "For the last little while I haven't been able to focus on anything," shares Keri. "but in the last week I've been baking!