Meet the Roen Family
From Kelowna, BC
This Holiday season is going to be very different for me and my family as we will be living at Ronald McDonald House BC & Yukon, close to the hospital where I am undergoing treatment for Hodgkin's Lymphoma.

My name is Gigha Roen and I am a 14-year-old teenage girl. After being diagnosed with cancer in April this year, I realized my life would never be the same. I had to trade my normal teenage life, with school, sports, band practice, and friends, for doctor's appointments and chemotherapy sessions. What makes it bearable is that I am able to come back to a place like Ronald McDonald House at the end of the day and my family is together, under the same roof.
I had heard good things about Ronald McDonald House BC and Yukon, but you will never really know unless you stay here. When I finish a chemo session, the short walk back to the House really helps lighten my mood and makes me feel a little better. While I miss my friends back home in Kelowna, I have made some new friends here from across BC and even from around the world. RMH is a home for seriously ill children and their families who need a safe place to call home during their treatment. I was so scared to lose my hair, but when I met my friends here who were going through the same thing, I knew it would be okay.
I still remember my birthday celebration a few months ago. We became very friendly with another family during their short stay and on the morning of my birthday, I went downstairs to see a big celebration in the courtyard. I thought to myself "Who else is celebrating their birthday today?" and I walked into the courtyard to realize that this family had designed this big party, for me. I am so grateful that I could celebrate this special day together with my family and new friends.
While my mom says my number one job is to get better, together we make sure to do three things every day:
1) find a moment of happiness,
2) help others who are having a tough day, and
3) be active every day.
Staying at Ronald McDonald House helps make all these things possible. My family loves hockey – and thanks to generous donors we have been able to go to some games and make great memories. Before my diagnosis, I was training to become a lifeguard but had to put that on hold. I still try to practice and whenever I get an opportunity and feel a little better, I enjoy spending time swimming in the community center pool nearby. When I'm not feeling well, we still get outside for walks in the neighborhood or even just pick vegetables in the RMH garden. I am so grateful that we are able to stay at a place like Ronald McDonald House BC & Yukon that allows me to just be myself.
I know my medical treatment in Vancouver is far from over and I expect to stay until at least March 2023. It is a very long time to be away from home and not have a feeling of normalcy, but your gift of a home makes all the difference.
Thank you for everything that you do for my family and other families who stay at Ronald McDonald House BC & Yukon every day.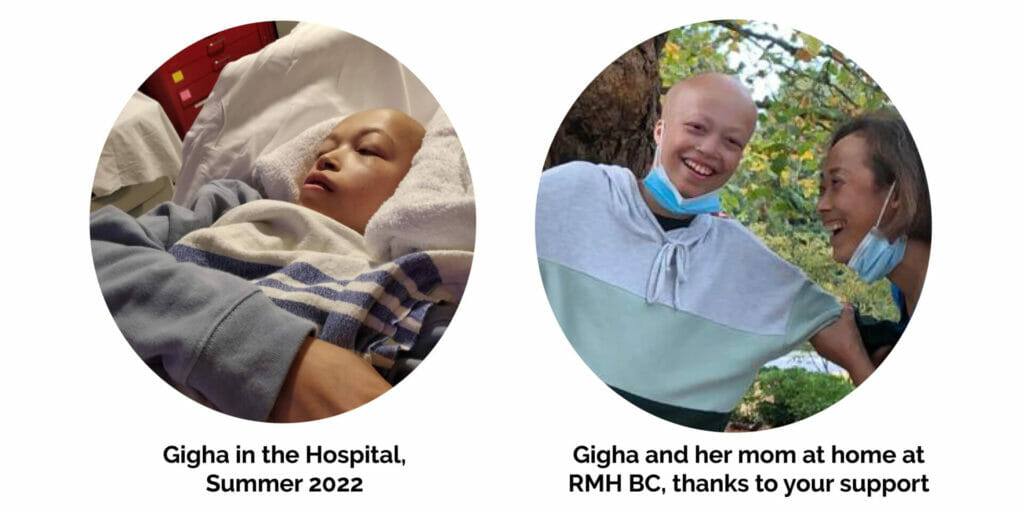 Help keep families like Gigha's close.