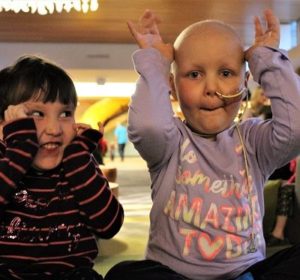 Ronald McDonald House BC and Yukon depends on the generous support of donors, volunteers, and friends in the community to provide a caring home for sick children and their families when it matters most. Here is what your support in 2016 made possible:
Ronald McDonald House
Almost 2000 families stayed at our 73-bedroom House on the grounds of BC Children's Hospital.
44 of those families stayed more than 100 nights in a row.
The longest consecutive stay by a family in 2016 was 373 nights.
31% of our families stay with us twice or more each year. One family stayed with us 25 separate times in 2016!
Ronald McDonald Family Room at Surrey Memorial Hospital
The Family Room had over 14,000 visits in 2016.
219 families used the sleeping rooms to stay close to their sick child.
600 loads of laundry were done in the past four months alone.
At both the House and the Family Room, 277 volunteers worked 15,272 hours to help serve our families.
Your support also helps to provide programs that bring joy and normalcy back into the lives of families with sick children. In 2016, volunteer groups served 227 meals (an average of 1,542 plates of food each month), taking the stress out of planning dinner or breakfast and allowing families to sit down together for delicious home cooked meals.
Your support also helps to provide 15 to 20 activities each week for children and parents, including yoga and meditation, massage, music and art therapy, dog therapy, drama, field trips to Vancouver attractions, cooking lessons, science for kids and a monthly birthday party for all children staying with us on their special day.
Thank you for keeping families close in 2016!