It's Monday night at RMH BC, and cheerful sounds of music and laughter are drifting out of the multipurpose room. Inside, RMH BC music therapist Erin Parr and volunteer Christina Dennehy start playing a catchy song as kids run into the room and grab a drum, shaker, or ukulele and join them.
Music therapy has been one of our most popular programs at the House since 2015. Each drop-in session is different and can include 3- and 4- year-olds singing toddler songs, teens trying their hand at songwriting and recording, or a child and parent learning to play an instrument together. One of Erin's favourite moments was when a group of dads spontaneously came together to form a rock band.
But one thing that every session has in common: seriously ill children and their families have a chance to be creative, build friendships and let off some steam.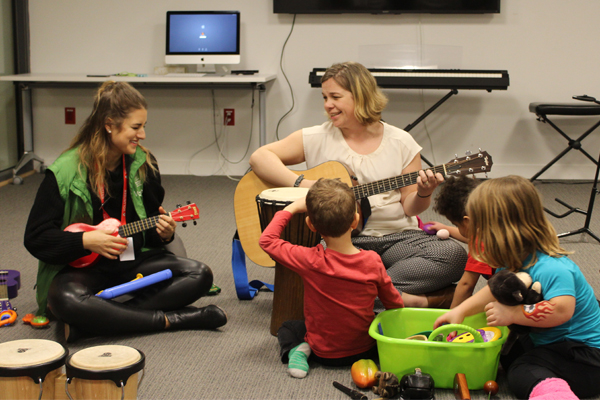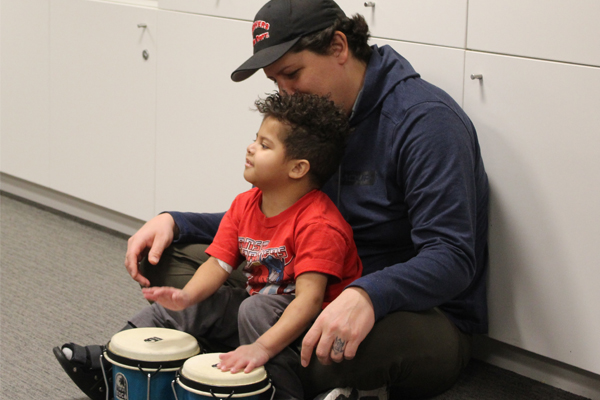 Besides drop-in sessions, Erin also hosts drum circles, a ukulele club for ages 6 and up, private music lessons, and album recording projects using the Bandwagon (RMH BC's very own mobile recording studio). All lessons focus on healing and positivity first: "It's not necessarily to master an instrument, but to make a connection and talk," says Erin.
A lifelong musician since the age of 5, Erin sees music therapy as the perfect opportunity to share her passion while helping others. She jumped at the chance to join our team after touring the House last year. Christina, a volunteer for three and a half years, has been inspired by her time at RMH BC to study medicine.
Their favourite part of music therapy?
"Let It Go!" Christina says and they both laugh. "We end up singing Let It Go [from Frozen] at least once per session," explains Erin. "But the best part is connecting with the families. Kids come in, and then parents trail in after them. Dad grabs a set of drums, mom grabs shakers, and the whole family is engaged."
Our Music Therapy program at RMH BC is made possible by funding from Music Heals.