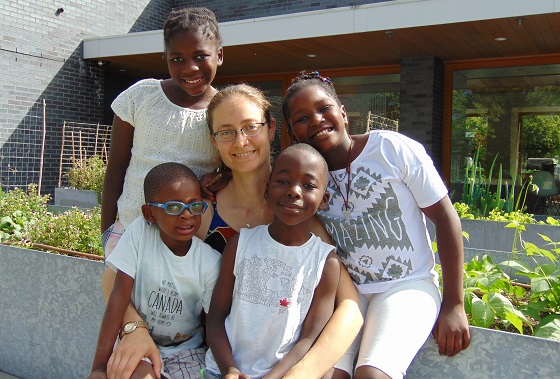 When you see siblings Pamela, 11, Siphesihle, 10, Musawenkosi, 7, and Nicholas, 7, zooming around the RMH BC sports court on bikes and scooters, it can be hard to believe the struggles they have already faced in their young lives.
Their mom Shoshanna van Dijk came to care for them while volunteering at an orphanage in South Africa. When she learned that they were each considered "unadoptable" due to their variety of medical needs, from genetic disorders to cerebral palsy, she knew she had to act.
After adopting all four children, Shoshanna planned to raise them in South Africa, but life changed quickly when Nicholas' health began to decline. Nicholas was born with VACTERL association, a genetic disorder that affect many parts of the body, from vertebrae and limbs to the heart and kidneys, and doctors told Shoshanna that there were no more treatment options in South Africa.
The van Dijks now live near Prince George and travel to Vancouver approximately every 2 to 3 months for appointments and treatments – but sometimes even more. In 2016, they stayed at Ronald McDonald House 10 times! While Nicholas will one day need a kidney transplant, he is thriving due to treatments at BC Children's Hospital, and his siblings are thriving as well.
Trips to the hospital are a way of life for the van Dijk family, but staying at Ronald McDonald House helps them all to cope. They can now break up long days of appointments by coming back to the House to eat lunch and play. The siblings love the slide, the sports court, and House programs such as cooking lessons, but they all agree that the Games Room is their favourite. "Now my children don't mind the trips to the hospital," says Shoshanna. "These are the bright points that make the hard, not so hard."
The friendly family atmosphere means that there are always new friends to make and old friends to catch up with each time they visit. The kids have even bumped into their RMH friends back home! Shoshanna takes comfort from meeting other parents that simply understand. "You find common ground, which in your day to day life you don't always find in your community," she says. "It's crazy to think that a place as big as this, with so many families, could have a homey feel, but it does. It works!"
Help keep a family like the van Dijks together.