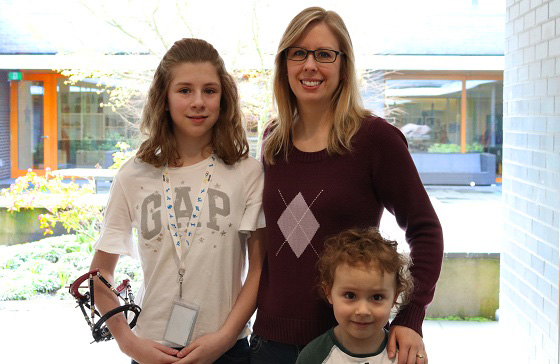 The Robillard family's journey began in January 2016 when two-year-old William was diagnosed with leukemia. Mom Michelle stayed with him at Ronald McDonald House for 10 months during his intensive course of treatment, without going home even once.
Even when they were able to return home, RMH BC was their home away from home during some incredibly stressful times, including a close call where William was evacuated to Vancouver after catching the flu.
A year later, Michelle took her thirteen-year-old daughter Stephanie to the doctor because her right arm appeared crooked. As it turned out, a broken arm she suffered at age four (not seen as serious by doctors at the time) was now causing complications as she grew. Stephanie was referred to an an orthopedic specialist at BC Children's Hospital who is resetting and repositioning the bone, a process that takes approximately two months.
What makes it easier for the Robillards as they are in Vancouver yet again? "The warm weather!" jokes Michelle, looking out at flowers blooming in the courtyard. "The La-Z-Boy chairs!" adds Stephanie, who loves the chance to curl up in one with her computer.
Most importantly, the House is a community full of supportive volunteers, other families, and lots of activities that make life easier for the whole family. Now four years old, William loves playing all over the House. "Everything's fun here," says Michelle. "As soon as we walk in the door, he runs for the slide or the games room."
Meanwhile, Stephanie can often be found in the kitchens baking brownies and other desserts with friends. She is a regular at Monday bingo night (where she has started a tradition of crowning and knighting the weekly Bingo champion) and loves to do arts and crafts on Friday nights with volunteer Stephanie Rogliano (also featured this month in Stories From Home).
And for mom Michelle, volunteer-run Family Meals help with the cost of being away from home and the added stress of grocery shopping in between medical appointments. "If you have to go through a hard time in your life, this is the place to be," she says. "This place has become a haven, and the people here are our family away from home."
Donate today and keep a family like the Robillards close.