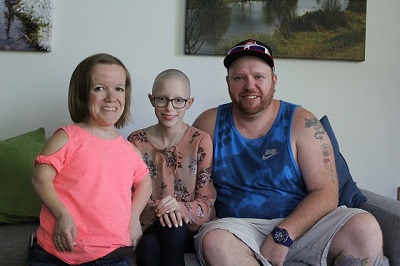 "This is our home now. This is our normal." 
Ronald McDonald House BC and Yukon has been home for two generations of the Lavallee family: mom Amber stayed in our 13-bedroom House as a child, and since February, the family has called our new House home while 12-year-old Emma undergoes cancer treatment.
Most of all, Emma misses her puppy. When she was diagnosed last February with rhabdomyosarcoma – a cancer that affects muscles, connective tissue, or bone – her family had to relocate to Vancouver to start 6 weeks of radiation and 42 weeks of chemotherapy.
Since February 2018, the family has only returned to Cranbrook once, for 6 days, to pack up their rented home and move out. Now, RMH BC truly is their home.
For Emma and her family, staying at RMH BC means being able to live a normal life outside of the Hospital. Donated tickets to events such as sports and concerts help them to go out as a family and take a much-needed break. Emma also enjoys spending time in the teen room and taking part in the music program, arts & crafts, and pampering herself with nail services by the Lipstick Project and massages from the Vancouver College of Massage Therapy.
Although mom Amber was very young when she stayed at RMH BC in the 1980s, she remembers that her parents made close connections with other families at the House, and now she is once again grateful for the support of a community as she cares for Emma during treatment. "It's not just somewhere you're staying; it feels like family," she says. "Everyone can share the activities together."
During their time in Vancouver, they have been blown away by the kindness and generosity they have seen. Their message to donors and volunteers at RMH BC? "A huge thank  you!" says Amber. "It's amazing how giving people can be and how they support kids and families, even when they can't even imagine what they're going through." Dad Bobby agrees, "It's amazing that there are still kind people. Just random strangers! I don't know how families would be able to do it without this place."
The Lavallees will be coming for Vancouver for treatment until January or February of 2018, but there is hope on the way. Soon, Emma will need fewer chemo treatments, so the family can restart their life in Cranbrook and reunite with their puppy.
Thanks to you, kids like Emma and their families have a home away from home. Donate today and keep a family like the Lavallees close.