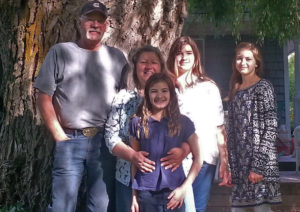 The Duits family from Sheridan Lake, BC are no strangers to upheaval. In the summer of 2016, they lost their rural BC home to a fire. In the midst of rebuilding their lives in the spring of 2017, their 14-year-old daughter Bethany was referred to BC Children's Hospital for treatment for an eating disorder.
Bethany and her mom Alice moved into Ronald McDonald House in April 2017, and would not leave until September 7th, almost two full seasons later. While they were in Vancouver, they learned that their home was once again under evacuation due to wildfires.
Bethany is the ninth of eleven children in the Duits family, with five children still at home and six more who have moved on to start their own families. Over the summer of 2017, RMH BC not only gave Bethany a safe place to stay during treatment but also became a safe place for her parents and younger siblings to stay together.
Despite the stress of treatment and having their home threatened for a second time in two years, RMH BC was a comforting refuge for the family. "We experienced constant peace here." says Alice.
The family was blown away by the compassion they saw at the House, from staff to volunteers to family meal groups and donors. "All the people who support this home – I haven't seen anything like it," says Alice. "Everyone wanted to help care for a family in a difficult time." It meant the world when volunteers would take the time to talk to them every day, and the weekly activities, from therapy dog visits to movie nights to The Lipstick Project salon days, helped to create a routine. Trips out to destinations like the Abbotsford Airshow and Jericho Beach also provided fun family experiences that helped to relieve stress. The kitchens and Family Meals also helped Bethany to thrive when she was outpatient and ate at the House on evenings and weekends.
Looking back over her stay at the House, Alice sees it as one of the most impactful times in her life and she knows she wants to give back and remain a part of the RMH community. "It was the peacefulness of living here that actually made Bethany start thriving," she says. "I owe a lot to this home."
Help keep a family like the Duits close.