Jenn Riopelle and Brendan Chamberlin were not expecting any complications when their daughter Tegan was born on March 20, 2015. However, when doctors noticed that she had an unusually large tummy and two hernias, they put her on an emergency flight to BC Children's Hospital. Jenn, still recovering from a c-section, followed a couple of days later.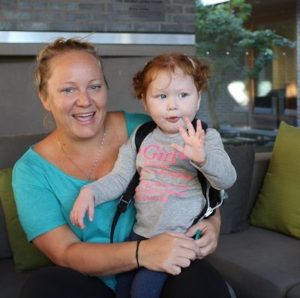 At BC Children's Hospital, doctors discovered that Tegan had a rare malfunction of her lymph system, which was draining into her abdomen. She needed surgery to repair it right away and stayed in the hospital for 8 months, first in the NICU, then in a pediatric ward. During this time, Jenn and Brendan, who live in Kamloops, were thankful for a place to stay just steps away.
"When she was in the NICU we were in the hospital day in and day out," said Jenn. Having a place to come to take breaks and eat meals meant the world. Family meals were a big relief and helped them to meet others facing similar struggles: "It helped to have people around who were going through the same sorts of scenarios, and to know that you're not the only one."
Tegan's first release from the hospital was not the end of this family's journey. While they were able to go home for a couple of weeks, Tegan had to be readmitted for two months. Afterwards, they travelled home to Kamloops again – only to return to Vancouver almost immediately. This brave little girl has now spent approximately a year of her life in the hospital.
Tegan is now recovering well, but when she has to come to Vancouver for follow-ups, her mom and dad know they always have a place to stay. "It's our home away from home," says Jenn. "Tegan feels comfortable here." Now an active toddler, she loves watching the fish in the koi pond, and, although she has spent much of her short life in a hospital bed, this social little girl loves spending time with other kids in the playroom!