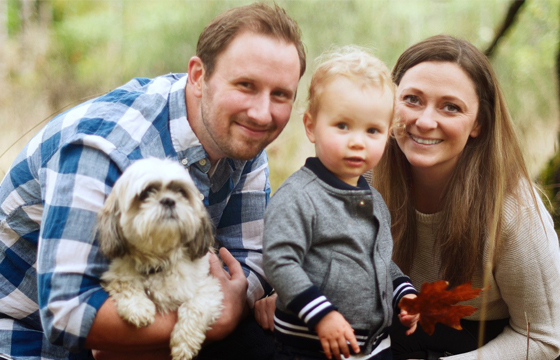 In June 2018, the Semkiw family faced the unthinkable: their toddler son Madden needed open heart surgery. They had to travel from Campbell River to Vancouver and find somewhere to stay during Madden's time in the hospital and his recovery.
At Ronald McDonald House BC and Yukon, the Semkiws found a home away from home and a community to help them through this stressful time. "As we arrived, naturally, we were nervous about the situation we had been dealt," remembers dad Rod. "The RMH BC staff and guests did a fantastic job of embracing and supporting our family."
The Semkiws appreciated the financial relief of staying at RMH BC and the close proximity to the hospital, ensuring they were always steps away from Madden's medical team. When they returned home, they were amazed to find out that many families they knew from Campbell River had also found comfort at RMH BC during their own time of need.
As Christmas 2018 approached, they decided to pay it forward and help raise funds to support families like theirs who had to spend the holidays far from home. "I could not imagine spending the holidays worried about the health and safety of a child," says Rod.
The Light the House campaign at RMH BC provided the perfect opportunity to give back. Light the House gives groups the opportunity to raise funds to sponsor a tree in the House or build a community tree in their business or workplace.
The Semkiws decided to build a community tree at their family business, C & L Supply, and with the support of their staff, customers and the community, they were able to raise $5,610! And they are not stopping there – they have signed up to host a community tree again this year.
Happily, Madden's surgery was a success and he is thriving back at home. Thank you to the Semkiw family for giving back!