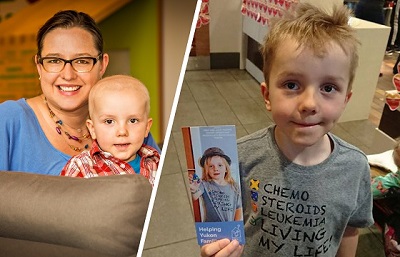 Six year old Marek Stehelin knows what it's like to lose his hair. Diagnosed with leukemia at just two and a half, Marek has spent a total of 496 nights at Ronald McDonald House BC and Yukon.
"Something like this never happens to you…until it does," says Marek's mom Amanda about the day he was diagnosed. "In the space of one hour your life is changed and this is your new normal." Since July 2014, Ronald McDonald House BC and Yukon has been a big part of their new normal.
"As a family we are grateful for how comfortable Marek is at the House," says Amanda. Marek's favourite things to play with at the House are the Lego and video games, and the many volunteers — including Eric who bakes cookies every Friday, Stephanie in the Arts and Crafts Room, and the volunteers who lead activities in the Games Room — have helped Marek continue to grow while undergoing treatment far from home.
The family has also made many lifelong friendships during their stays at the House, and when Marek was granted his Wish, the first thing he asked for was to visit an RMH BC friend from Penticton. After Amanda explained that they could do this trip whenever he wanted, the family ended up going to Disney World!
When his hair started to grow back, Marek decided to grow it as long as possible so he could donate it to another kid who needed it. April 11th was the big day when Marek cut his hair like Thor and made his donation. But even though the haircut is over…the journey isn't! Due to complications from chemotherapy, Marek, currently in Grade 1, will need to return to Vancouver for treatment until he is 18, and he is collecting donations all year long to support families like his at Ronald McDonald House.
What does Marek want to do when he grows up: "Be a volunteer at RMH BC and a scientist!"
Thank you to Marek from all of us at RMH BC.