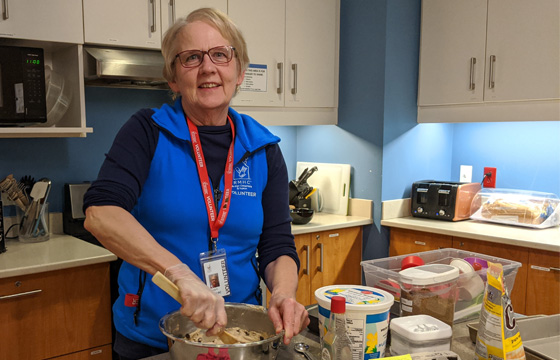 "I had been retired for half a year, and that wore off," remembers Jenny Kok with a laugh, when asked why she began volunteering at the Ronald McDonald Family Room at Surrey Memorial Hospital. "You need to look for things to do in your life. You need to look beyond short term gratification."
Her husband pointed out an ad in the Surrey Leader calling for volunteers and she thought the opportunity was perfect – and two and a half years later, she still loves coming in for her regular Monday shift.
On a typical shift, she opens up the Family Room and ensures that it is ready to welcome families who need a break – complete with coffee, snacks, and cereal to help fuel them for the day. She does laundry and gets rooms ready for new check-ins, and when there's time, she loves to bake for the families. "There's always lots to fill up the four hours," she says.
Most of all, she loves talking to the families who depend on the Family Room, listening as they share their ups and downs, and being a friendly face to listen, sympathize and encourage.
When she thinks of her most memorable days volunteering, she remembers being able to offer simple comforts to parents in the midst of a crisis. She remembers a dad who had just arrived at the hospital after his child was born prematurely, and the relief in his face when he was able to sit down for a cup of coffee and piece of toast. She remembers a family from India who unexpectedly welcomed twins at 7 months while travelling in Canada. They had no family or support locally, and she remembers being proud to offer them a place to stay.
"Feeling like you're making a difference – even running the dishwasher or wiping the kitchen counter – you know that you're helping to make a difference to families in an emergency situation, and making their lives easier," says Jenny.
And making this difference to families is what keeps her coming back to volunteer. "Families tell me they don't know what they would do without the Family Room, and it gives me joy to hear that," she says. "It makes a difference to me as well."