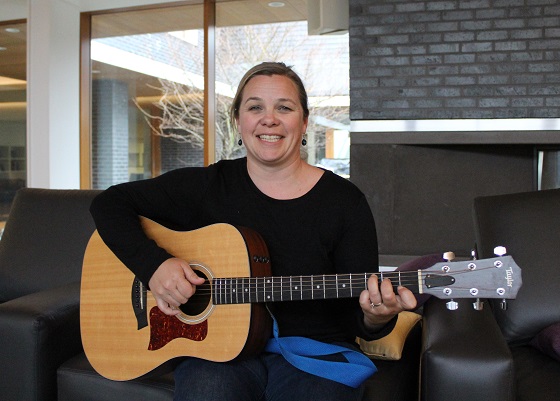 The music therapy program at RMH BC helps kids and families to express themselves through music in both individual and group sessions. We caught up with Erin Parr, RMH BC music therapist, to find out what she loves about music therapy. Thank you to Music Heals for making our music therapy program possible, and to the Music Therapy Ride for helping to set us up with our very own Bandwagon mobile recording studio.
Erin, tell us a little about a typical day as music therapist at RMH BC?
The best thing about a typical day at RMH BC is there is no typical day! It's different every single time you come in. It's very unique in that I never know if it's going to be young kids, or teens, or dad rock band, if we'll do songwriting, or just dancing and karaoke. I love working with the whole family unit, and getting to do such different things and be creative.
What are your thoughts on music therapy today and what we might expect over the next few years?
Music therapy is getting more and more exciting. There has been so much research on music and the brain in the last 10 years, and they're getting much more specific about how to utilize music for different things. We're seeing a lot more medical music therapy: for the burn ward, in ICUs, for pain management, and of course it's been really big in geriatrics. Thinking of Ronald McDonald House – we can apply music therapy to trauma-informed care, or to help kids transition from the hospital back to home, and use music in a much more specific way.
The relationship between music, anxiety, and trauma is huge – we know that our "music brain" kicks in and totally deactivates our anxiety centre.
Tell us a bit about your career path – where did you start out and how did you get where you are today?
I started working in group homes for mentally challenged adults. Then I moved to Kamloops and worked at a school for kids with autism. I was there for 10 years, and then I moved back to the coast. I had a private practice and I ran a family music group called "Music Together." I love working with families mostly – having everybody there together, because that's what kids really need.
Now I'm here and I'm also working on a NICU project which should be starting any day now. The research shows that babies that get music therapy have better weight gain, better feeds, better parent-infant bonding, and it helps babies go home up to 10 days sooner.
What would you say to aspiring musical therapists out there?
You just have to keep at it, persevere, and keeping working to get more experience in different scenarios.
So just keep swimming, as Dory would say! And how can people who don't stay at RMH get access to music therapy?
You can visit the Music Therapy Association of BC website (mtabc.com) and search for a music therapist in your area!
Lightning Round:
• Fave movie and why? Rudy – because he's the underdog and wins!
• Favourite food? Thai
• Best vacation ever? Maui this February
• Favorite pastime when not at work? Time with family! I also do triathlons.
Watch: The kids, volunteers, and staff of RMH BC come together to sing "Home" by Phillip Phillips: