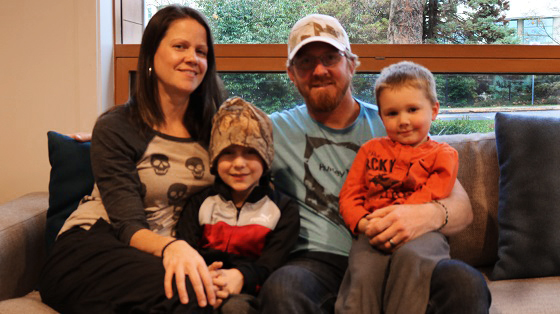 "Home is where your family is," says mom Faith Johannson, "and that's what you give to us." Ronald McDonald House BC and Yukon has been a second home for the Johannsons since 2013, as they fight neuroblastoma with their son Eli for the second time.
Eli's journey began in October 2013 when he was rushed from Vernon to BC Children's Hospital. For the next two years, Eli underwent countless treatments and RMH BC became a sanctuary.
Along with his mom Faith, dad Iain, and little brother Solomon (known around the House as 'Sully'), Eli moved with us from our 13-bedroom House to our 73-bedroom House – but even after this big change, RMH BC continues to be a familiar, safe place. "When you're in the hospital, it's all about procedures and news, good or bad," says Iain, "but the House is completely separate." Faith agrees: "Both boys call it home."
In March 2015, Eli finished his treatment, in full remission. However, in early 2017 the family noticed something was wrong and on April 6, Eli was rediagnosed. The Johannsons found themselves once again walking through the doors of RMH BC, feeling lost – but instantly the familiar faces helped them to cope. "Even though you're separated from your family, people here know you," says Iain. "It makes it better."
For the Johannsons, staying at RMH BC means eating dinner together, whether it's a volunteer-run Family Meal, mac and cheese from the pantry, or soup made from fresh produce from the garden. It means building Lego robots and couch cushion forts and watching movies. It means sharing food and tips with neighbours. Most importantly for this family of four, they can see each other every day.
Currently they travel back and forth from Vernon and will continue to do so through the holiday season and into 2018. Eli goes to school three days a week and Sully (just a baby when he first came to RMH) has started preschool. But they know that wherever they are, Vancouver or Vernon, they will be together, the most important thing.
You can help keep a family like Eli's close this holiday season.