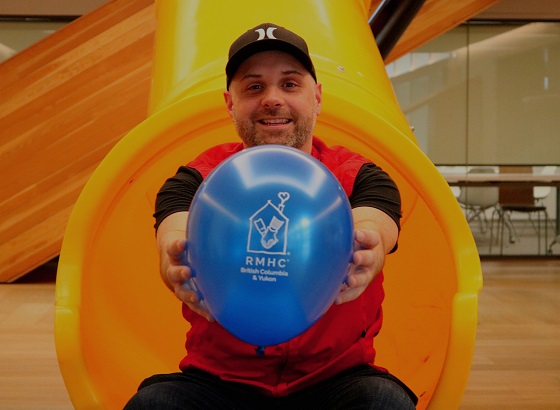 "No matter what kind of day you have, coming here puts so much into perspective," says Dewey Doyle about volunteering at RMH BC.
He first learned about the House when he joined a friend to cook a family meal. RMH BC stayed on his mind, and when he found out that we were looking for volunteers to help host the Family Meal Program, he jumped at the chance to get involved.
Since November 2017, Dewey has volunteered on Thursday nights and is the first point of contact for groups coming in to cook dinner at the House. A typical day means coming in just before 4 PM to prepare for the incoming groups (he is grateful for his supportive boss who lets him leave early once a week). He helps them get oriented to the kitchen, start out with all the right equipment, and pull together dinner for 100 in just two hours. After dinner, he helps direct the group clean-up effort so that families don't have to lift a finger.
For Dewey, volunteering at RMH BC is refreshing chance to be active and think on his feet (literally) after a day at the office. The tight-knit group of volunteers he works with also help to keep him going. "Everyone is so friendly and we all get along so well," he says. "Even though every person has a different role, they are more than willing to step in and help out wherever needed. They are an amazing group!"
"My most memorable moment here happened during one of my first shifts," he remembers. "I was still getting accustomed to the House and navigating my way around the building. While I was getting ready for the meal, a child came up to me, grabbed my hand, and told me that we were going to find Nemo. So off we went to the fish tank!"