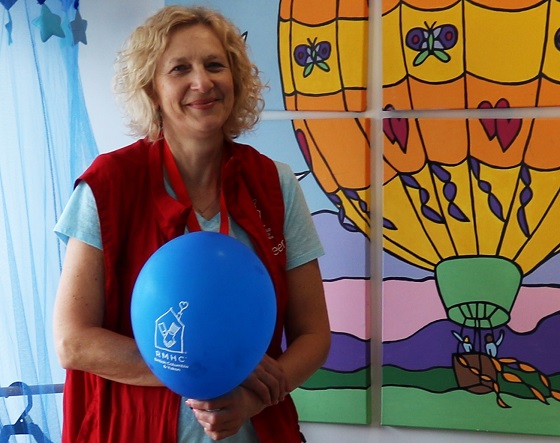 "Whatever issues these kids have, they are kids first," says Colleen Gratz about the children she volunteers with at RMH BC.
Colleen has always loved to work with kids. She started her career in preschools and daycares and then joined the Centre for Child Development, helping children with medical challenges and other special needs. After leaving the work force, she missed the kids most – and that's when she applied to volunteer at RMH BC.
Over the past year, Colleen has created and led the Young Explorer's Program for children aged 2 to 6. Twice a week, she comes prepared with fun crafts, activities and stories for the kids, designed to bring out their creativity and give them a break from the world of hospitals and medical treatments. Parent participation is encouraged, but they are also welcome to take a breather nearby while their kids are busy playing.
Colleen always takes the time to get to know the families and make a connection with the kids she meets. She remembers one little girl who was so shy, she would always peek around the door before entering the playroom – but then would come running when she saw Colleen was there.
It's moments like these that keep her coming back to RMH BC, and seeing the smiles on the kids' faces. "It gives me so much pleasure to do even a little bit to make someone's day brighter," she says.
Colleen enjoys taking on more volunteer opportunities when they come up, such as staffing the RMH BC hole at the annual Vancouver Invitational Golf Tournament. When she's not at the House, she enjoys painting, reading, walking and cycling, and baking delicious treats that often end up at RMH BC. "If they were at home, I would eat way too many of them!"