"We have friends here that will be like family members forever," says mom Jasmine Champagne. The four and a half months that her family spent in Vancouver were full of fear and uncertainty – but also the incredible support of a community.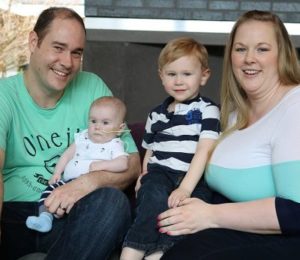 The Champagnes' journey began when their son Caleb was airlifted to Vancouver just two hours after he was born. Jasmine and her husband Mark thought that they would be in Vancouver for 3 to 5 days as a precaution, but Caleb went into cardiac arrest and was put on full life support. His doctors discovered that Caleb had Barth Syndrome, a genetic disorder that affects less than 200 children worldwide and causes heart disease. In total, Caleb has spent 112 days in the hospital, and while at first his heart could not beat on its own, it is now almost at normal function.
During this chaotic time, Ronald McDonald House became a home away from home for Jasmine, Mark, and Caleb's big brother, 2½ -year-old Jordan. The closeness to the hospital was a relief for the family, but what truly kept them going was the community they found at the House. Other parents came together to support them even while facing struggles of their own. Jasmine clearly remembers the night of Caleb's first discharge from the hospital. "By the time we arrived at the House, there were about 30 people waiting for us in the lobby," she says. "Someone had made a 'Welcome Home' sign for Jordan to hold."
Having other kids to play with helped Jordan to thrive and develop socially. He has an honorary big sister named Annabelle, who is here from Nelson fighting cancer, as well as countless other friends to play with. At RMH BC he can most often be found in the main living room, building couch cushion forts and talking to everyone he meets. "I don't even sit with him at dinner!" said Jasmine. "There are days when I come in and find him sitting and eating with another family."
Happily, in March the Champagnes were able to return to home to Crofton, a place that Caleb had never seen. Jordan wished that he could bring all his friends home with him – but there are many reunions in his future as the family will need to return to Vancouver once a month for tests and checkups.
Before heading home, Jasmine ordered t-shirts for Jordan and all his RMH friends which read, "Met by chance, friends by choice," a phrase which perfectly sums up life at Ronald McDonald House. While no one ever expects to be here, the House offers a chance for people to come together and help each other through the toughest times.
Donate today to help keep a family like the Champagnes close.