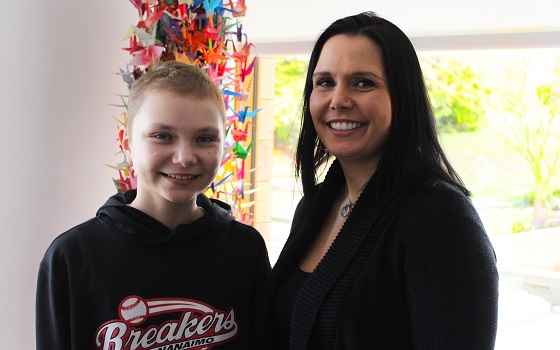 September 5, 2017 should have been the first day of school, but instead, it was the day that Abby Cavanaugh and her mom Kim first checked in to Ronald McDonald House. Abby was diagnosed with Acute Lymphoblastic Leukemia (ALL), and since that day, RMH BC has been home for her, with just three short visits to Nanaimo in the past six months.
At first, everything was scary and disorienting – facing over two years of treatment, figuring out meal prep in a large shared kitchen – but that feeling didn't last long. "The House itself is amazing," says Kim. "Everyone, the staff, volunteers, and other families, has done their best to make us feel comfortable."
Most importantly, RMH BC provides a welcoming place for Abby's three siblings to visit, and Abby's younger sister Olivia is able to come to Vancouver every weekend to provide moral support. Everything about the House helps to relieve stress for Abby and her family, from the closeness to the hospital to home cooked meals by volunteers and even to the parkade where kids can ride bikes on rainy days. When Abby and her mom are cooking in the shared kitchen but are missing that one small ingredient, there is always someone who can lend a hand or a pinch of salt.
To help pass the time between appointments, Abby loves to join in to the many activities that the House has to offer. She is a regular at bingo night, cooking class and Nintendo night. Meanwhile, Kim is most thankful for the the fitness room, which she visits every morning to start the day off on the right foot.
Among the many friends that Abby has made here at the House is Vancouver Canucks defenceman Michael Del Zotto, who visits RMH regularly. They became fast friends this past fall while playing MarioKart with other kids in the House. Now Del Zotto makes sure to catch up with Abby and her family during each visit.
Abby and Kim are looking forward to this summer, when the maintenance phase of Abby's treatment can begin and they will only need to visit Vancouver once a month. Their message to everyone at RMH BC, and especially the volunteers? "THANK YOU!"
Donate today and keep a family like Abby's close.