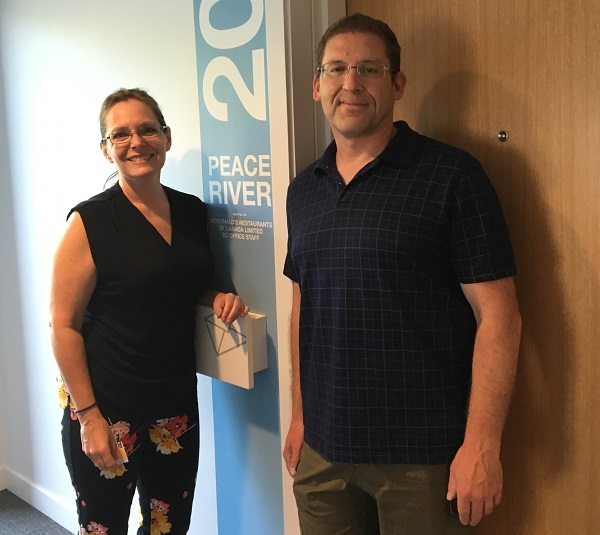 McHappy Day 2018 was a record-breaking success and raised $542,154 thanks to new and creative fundraising initiatives by McDonald's employees. We asked McDonald's Owner Operators to nominate a "House Hero" from their restaurants who has gone above and beyond to raise funds and awareness for RMH BC. This year's winner: Rena Krell of Kelowna.
Rena Krell walked through the doors of RMH BC for the first time this summer, but for the past 10 years, she has been coordinating McHappy Day fundraisers in Kelowna which have supported countless families at the House.
When she took the lead on McHappy Day in 2008, the Kelowna event raised about $9,000 annually. In 2018, it raised a record $45,000, with funds split between RMH BC and the Boys & Girls Club of the Okanagan!
To achieve this incredible result, Rena and her team of McDonald's managers and crew fundraised year-round with events such as bottle drives, bingo nights and 'Socktober' sock sales. Staff are always on the lookout for new fundraising ideas (including selling their knitting) and McHappy Day itself is always 'Superhero Day' in Kelowna, with everybody coming to work in costume.
McHappy Day in Kelowna now means more than lunch; it has inspired the whole community. Regular customers have embraced the fundraising efforts, including a group of construction workers who come in every day for coffee. This year they personally collected and delivered truckloads of bottles for Rena's bottle drive!
Rena recently stayed overnight at the House and she and her husband got to experience the day-to-day life of families that McHappy Day helps to support. They were blown away by the architecture of the House and the family feeling: "It's small enough that you're not overwhelemed, but big enough, with all the activities, that you feel included in a community."
Their favourite part of the House? The giant submarine aquarium and the community gardens.
Thank you to Rena and to everyone who took part in McHappy Day 2018.