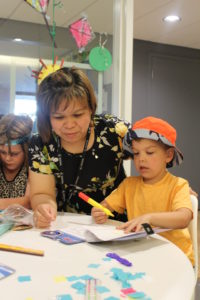 On McHappy Day, $1 from the sale of every Big Mac, Happy Meal, and hot McCafé beverage is donated to RMH BC and children's charities, and in many communities the event has grown into so much more. McHappy Day 2017 was a record-breaking success and raised an incredible $530,849 thanks to new and creative fundraising initiatives by McDonald's employees.
This record-breaking year, we wanted to honour McDonald's employees who went above and beyond to raise funds and awareness for RMH BC, so we asked each Owner/Operator to nominate a "House Hero" from their restaurant. The winner would have a unique opportunity to stay in the House for one night to see their fundraising efforts in action.
This year's winner was Becky Fernandez of Campbell River. Becky eagerly stepped forward to lead the 2017 McHappy Day campaign in her community and put together a team of peers and volunteers to organize many fundraisers over a year-long campaign. Becky and her team set lofty goals and with great pride she lead her committee to far surpass their goals by organizing monthly events (held rain or shine in often less than optimal conditions) such as sock sales, garage sales, and car washes to name a few.
Becky recently redeemed her trip to the House and got to experience the day-to-day life of families at RMH BC by taking part in arts and crafts and our weekly Friday night Nintendo tournament!
Thank you to Becky and to everyone who took part in McHappy Day 2017.