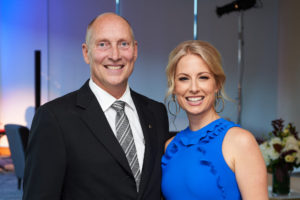 On September 28, sponsors, community members and volunteers came together to raise funds for Ronald McDonald House BC and Yukon and the families who depend on the House.
This year's Gala, emceed by Global BC's Kristi Gordon and Geoff Hastings, featured delicious food, exciting live and silent auctions, and live entertainment all in support of seriously ill children and their families. Throughout the evening we celebrated the many circles of support, including volunteers, community champions and donors, that surround families staying at Ronald McDonald House.
Guests enjoyed a performance by Mary Sanders, Olympic gymnast and Cirque du Soleil entertainer. Guests also enjoyed live music, portraits by the Hemingway Project, and a vodka and caviar tasting in the La-Z-Boy Lounge. The fantastic live auction included autographed Deadpool memorabilia straight from Ryan Reynolds as well as fabulous trips, sports experiences and artwork. At the end of the night, many guests volunteered to gift a night, a week, or even a month of accommodation for families at RMH BC.
RMH BC guests Michelle and Steve Beaulieu shared their story with Gala attendees, and showed the incredible impact that the Gala has on families like theirs. The Beaulieus travel to RMH BC from Whitehorse throughout the year with their sons Ross and Finn, who are living with Duchenne Muscular Dystrophy.
Thank you to all Gala guests, sponsors, and volunteers who have helped to make this event a success, and helped to provide accommodation and support for BC and Yukon families when it matters most.