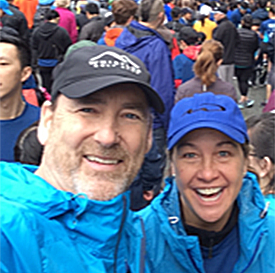 This year, we are thrilled to be a charity partner of Canada's largest 10K road race: the Vancouver Sun Run presented by Ford. We invite you to take your race to the next level by becoming a charity runner (or walker) for Ronald McDonald House BC and Yukon.
RMH BC volunteer Tricia Cochran has joined our team at the Vancouver Sun Run for two years in a row and has been a top fundraiser both times. Last year she raised $1,600, and this year she has already reached her goal of $2,000.
She recently shared with us her motivation for supporting RMH BC, along with her advice to everyone who is thinking of becoming a charity runner in this year's event.
How did you first get involved at RMH BC?
"Making people feel welcome and supported just felt like a natural fit after raising four kids. After spending my first shift at the house I was hooked. It takes a village to raise a child and I am so privileged to be a part of that village."
What motivates you to be a champion for RMH BC?
"Seeing the joy in the kids. At the House they can just be themselves and there are people all around them who truly understand what they are going through. When I was in high school my best friend was diagnosed with Leukemia at 15. One of the things she found hardest to manage and accept was the isolation that can happen with illness. Thankfully RMH BC is here to help alleviate that problem so [families] can focus on healing."
Any tips for first-time fundraisers?
Speak from the heart. "I believe in Ronald McDonald House. I believe in our mission to provide comfort, compassion and a sense of community to families who need it and I love to share that message with people who may not have had direct exposure to RMH."
Keep asking. "I think one of the most important things for people to remember when fundraising is that every no is one step closer to a yes. You need to ask frequently; people are busy and quite often the ask has simply fallen off their radar."
Say thank you. "I use social media to support my efforts and publicly thank my donors which provides another opportunity to remind those who have yet to contribute that there is still time."
Be inspired by our families. "When it gets hard I just think of the kids and their families and I remember what's important – keeping our amazing place available to all who need it."
Raising funds for RMH BC while you train is easy! First, register for the Vancouver Sun Run if you have not already signed up. Then, set up your personal fundraising page that allows you to quickly and conveniently collect pledges from family and friends. All are welcome to join us and we hope to see you at this year's event!