When Nicola Veltri got sick one weekend in November, her parents Mike and Kristina arranged to take her to their local clinic in Sooke BC, assuming she had caught a bug that was going around. However, on Monday, Mike received a call at work: Nicola was being admitted to Victoria General Hospital.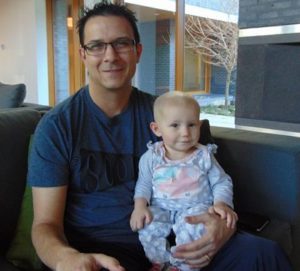 He rushed to the hospital, where staff handed him a mask, told him to wash his hands, and he heard a word he never expected: oncology. "Your world just gets rocked," he said about that shocking moment. At 1:00 AM, Nicola and her mom boarded a helicopter for Vancouver and Mike went home to help their two other children, age 6 and 9, to pack – even though they had no idea how long they would be gone.
The next day, doctors at BC Children's Hospital confirmed a diagnosis of leukemia: ALL of the B-Cell. While this is the most common type of childhood leukemia, and the most treatable, there is always the risk of side effects. In December, Nicola suffered a perforation of the intestine and spent a month bedridden in the hospital.
Nicola had been learning to stand and walk, but all of that was interrupted by her month in the hospital. Now, staying with her parents at Ronald McDonald House, she is resuming life as a typical toddler and starting to stand again. Her parents are thankful that she is young enough not to remember the toughest times, although according to Mike, yellow is still her least favourite colour because of doctors' gowns.
Nicola's brother and sister returned home to Sooke to keep up with school and sports, a hard adjustment for the family. But thanks to Ronald McDonald House, they were able to visit over the holidays. "Ronald McDonald House includes everybody. They take care of the whole family, not just the patient," said Mike.
Other families at RMH BC have also been an important source of support for the Veltri family. "In a situation like this, you shouldn't be sitting in your room feeling sorry for yourself," shared Mike. "You need talk to people." While eating dinner in the communal kitchens of RMH BC, they meet parents who are all facing similar situations. They share advice and ideas about treatment and help each other cope while waiting for the next appointment. Mike even spent an afternoon teaching families how to make pasta. The Veltris have made friendships that they know will last, and a support network that will continue to exist long after they've returned to Vancouver Island. Because of this support, said Mike, "the glass is always half full."
Soon, Mike will return to work while Kristina stays to take care of Nicola during her next phase of treatment. The family hopes that after intensive treatment is done, they will be able to continue treatment in Victoria and spend more time at home, and they know that they want to give back to RMH BC. "When you go to McDonald's, you always see the donation box for Ronald McDonald House, and you don't think about what it means," shared Mike. "But now we can relate."
Help provide accommodation and support for a family like Nicola's. Donate today!