Imagine spending the holidays far from home, away from friends and extended family, facing long days in the hospital. Normalcy or even joy can seem far away. At Ronald McDonald House, generous volunteers and donors have helped to provide a home away from home for the holidays, where families can celebrate the season even while they fight a serious illness.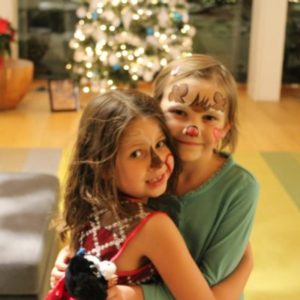 Supporters of the House have adopted and decorated 12 Christmas trees with themes ranging from Under the Sea to Star Wars. The House has also been filled with activities that keep kids and families feeling festive.
15 volunteer groups, including teams from Shaw, Overwaitea and the Beedie Group, have prepared dinners and breakfasts to help ease stress and help families eat home-cooked meals together. Almost 50 activities have helped to spread holiday cheer, including music and caroling, arts and crafts, gingerbread house and cookie making, special storytelling nights, a trip to the Canyon Lights, and visits from Santa.
Our multipurpose room has been transformed into Santa's workshop. Each parent is able to pick out the perfect gifts for their child, have them wrapped by volunteer elves, and let Santa know where to deliver them on Christmas Eve.
Even while they are far from home, no family needs to spend the holidays alone; they have a built-in community of support from other families and volunteers. And no child needs to miss out on special childhood moments like decorating a gingerbread man or singing "Rudolf the Red-Nosed Reindeer."
Even the recent snowfall in Vancouver has helped bring a special Christmas feeling to our families, many of whom come from Northern BC and the Interior!
There's still time to brighten the holidays for a family staying at RMH BC this year. Donate today!