On October 20th, sponsors, community members and volunteers came together to raise funds for Ronald McDonald House BC and Yukon, and the families who depend on the House.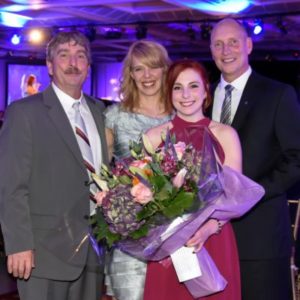 This year's Gala, emceed by Global BC's Lynn Colliar and Kristi Gordon, featured delicious food, exciting live and silent auctions, and live entertainment all in support of seriously ill children and their families.
Guests enjoyed performances by Grammy nominee Dan Brubeck, renowned jazz drummer and son of the legendary jazz icon Dave Brubeck. Together with his Juno nominated quartet, he performed all-new original creations based on the theme of lullabies and sweet dreams.
The fantastic live auction included a meet and greet with Ryan Reynolds on the set of Deadpool 2 and a chance to fly in the Dallas Stars' private jet. At the end of the night, guests lined up to gift a night, a week, or even a month of accommodation for families at RMH BC.
Former RMH BC guest Molly Imrie shared her story with Gala attendees, and showed the incredible impact that they have on BC families like hers. Diagnosed with osteosarcoma at age 14, Molly had to leave her home in Grand Forks for 9 months of chemotherapy and surgery. Ronald McDonald House became her home away from home, and the other children she met at the House became her inspiration during her fight. Now, 8 years later, Molly is cancer free and studying to become a pediatric nurse.
Thank you to all Gala guests, sponsors, and volunteers who have helped to make this event a success, and helped to provide accommodation and support for BC and Yukon families when it matters most.
View our online photo gallery!